Hunting with Castagno Outfitters
Big game hunting in beautiful northwest Wyoming offers an opportunity for elk, deer, moose, antelope, black bear, and bighorn sheep trophies. Using experienced mountain horses, Castagno Outfitters tracks through wilderness areas within the Bridger-Teton National Forest and Shoshone National Forest. Our Soda Fork, pack-in camp accommodates six hunters per hunt and is located in the Teton Wilderness. Sheep spike camps are limited to two hunters per camp and are located high in the Washakie, Fitzpatrick, and Teton Wilderness areas. For your comfort, tents are heated, and we even light your fires and lanterns in the morning. Meals are served family style in a large cook tent.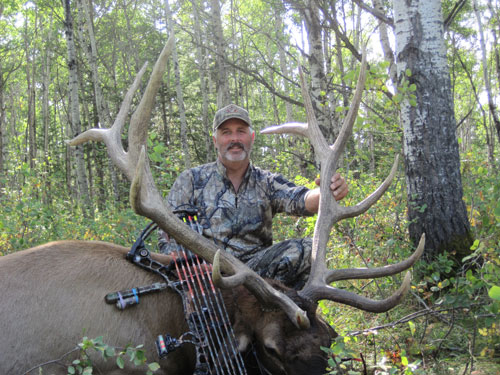 Photo Credit: Kevin Smith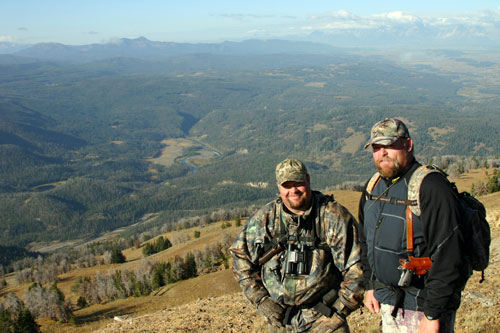 Photo Credit: Todd Pearson

A complete hunt includes: transportation to and from the Jackson airport; complete camp of wall tents, cots, pads, stoves, wood, food, horses, saddles, scabbards, saddle bags, experienced cook, guides, and packer services; and transportation of meat and trophies to Jackson. Caping, quartering, and packing of trophies and meat are taken care of by our experienced guides and packers. Meat processing and taxidermy are the responsibility of the client. Jackson has a complete locker plant to handle your meat and taxidermy to mount your trophy.
All non-residents' big game hunting licenses are on a drawing basis. Upon request, we will send you the necessary information and applications, or you may contact the state of Wyoming, Game and Fish Department, License Section, Cheyenne, WY, 82006, and they will send you an application packet.
Please call for prices and availability.